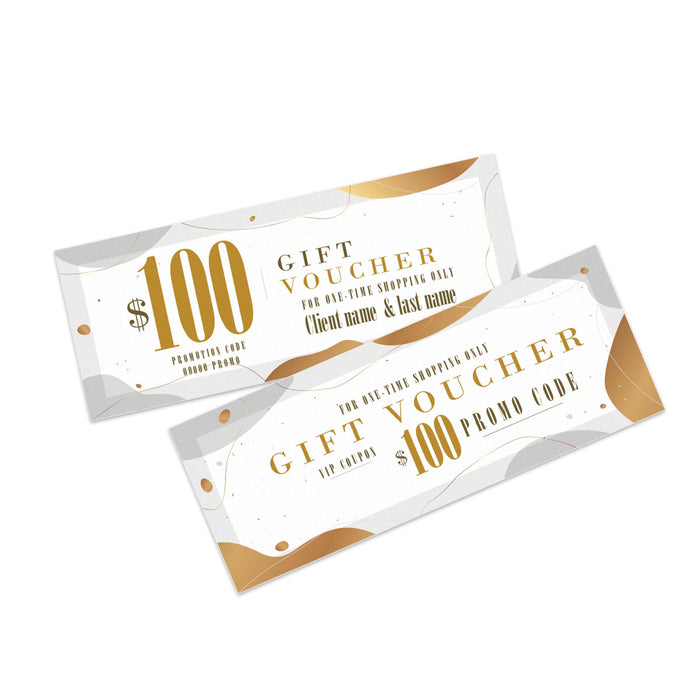 6.5" x 3" dimensions
80lb Gloss Cover
1- or 2-sided printing options
Colour or white envelopes available
Quantities from 10 to 20,000
Looking for a new way to get the word out about your restaurant, shop, or salon? Consider creating your own custom gift certificates. This simple gift idea is also an effective marketing approach: Loyal customers can turn birthdays, anniversaries, or special celebrations into opportunities to promote your business.
File TypeReady to Print File (PDF 300 DPI).
*Special InstructionsStandard Shipping Only, Store Pickup.
Allowed file extensions: Ai, PSD, PDF.
Please note, all print files must in 300 dpi resolution minimum. We will not be responsible for poor-quality prints due to the low resolution of the original files.
All proof files will be color-coded as follows unless stated otherwise:
Red/Pink line = Finished product will be cut to this line
Blue line = All background images/color/artwork should extend to this line
Green line = All important information that is not getting cut/folded should be inside this line
No lines get printed on the final product, they are simply visual markers.
Click here for a sample template
Click here to send your files (Ai, PSD, PDF 300dpi.)